Municipal Court Office Location:
City Hall
100 Blackjack Road
Argo, AL 35173
(205) 352-2120
Fax: (205) 352-2118
PLEASE NOTE IF YOU WOULD LIKE TO CONTACT CITY COURT, PLEASE CALL 205.352.2120 DIRECT.  ANY COURT MATTERS, OTHER THAN ONLINE PAYMENTS, CANNOT BE HANDLED THROUGH OUR WEBSITE CONTACT PORTAL.  THANK YOU.
Office Hours:
Monday-Thursday 7:00 am to 5:00 pm
Court Personnel:
The Honorable Carl E. Chamblee, Jr., Judge
Rick Bearden, Prosecutor
Casie Bethune, Court Clerk / Magistrate
Court is on Thursday 1:00 P.M. unless otherwise noted:
Many traffic infractions can be settled prior to court date. Payment must be received by 4:00 pm. on the last business day prior to your court date or you must appear in court. Your ticket or jail release documents will reflect your assigned court date. Reminder notices with future review dates may be obtained in court.
Fines can be paid in person, by mail, or online with a credit or debit card. Mailed payments must include your signed and dated copy of the ticket. Payments can be made by using cash, certified check, or money order. NO PERSONAL CHECKS ARE ACCEPTED. Do not send cash in the mail. For credit/debit card payments, you can click on the pay fines online icon to be directed to the Citepay website for secure online payment. The following link has a chart that list fines and court cost set by the State of Alabama for Municipal Court Traffic Citations that may be paid in full before the scheduled court date.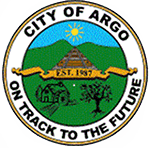 City Council
Mayor Betty Bradley
Rick Hopkins
Dusty Stinson (Mayor Pro-Tem)
Dennis Griffin
Tommy Suggs
Danny McCarley
Ann Brown (Mayor Pro-Tem)
City Hall
100 Blackjack Road
Argo, AL 35173
Phone: 205-352-2120
Fax: 205-352-2118