City Hall
100 Blackjack Road
Argo, AL 35173
Phone: 205-352-2120
Fax: 205-352-2118
Available:
Monday-Thursday
7:00 am-5:00 pm
Fire Department
Emergency Dial 911
Phone: 205-352-2109
Fax:205-352-2128
Police Department
Emergency Dial 911
To Speak With An Officer:
Call Central Dispatch At:
205-467-3333
Please contact the City of Argo at the above contact information or complete the form provided and someone will get back with as soon as possible.  For emergencies, please call 911.
Please note if you would like to contact City Court, please call 205.352.2120 direct.  Any court matters cannot be handled through this contact portal.  Thank you.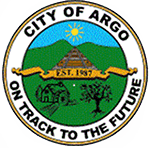 City Council
Mayor Betty Bradley
Rick Hopkins
Dennis Griffin
Tommy Suggs
Danny McCarley
Ann Brown (Mayor Pro-Tem)
City Hall
100 Blackjack Road
Argo, AL 35173
Phone: 205-352-2120
Fax: 205-352-2118