Welcome
to the City of Argo
Gateway to the Best
Country Living Has to Offer
Welcome to the official website for the City of Argo, Alabama! The City of Argo is a sprawling suburban city located in St. Clair County. Argo offers quiet country living and a wonderful place to raise a family. We are committed to a safe and wholesome environment, taking pride in our highly professional Police and Fire Departments, Schools and Churches. We believe that Argo is the best place to call home. Before you buy a home, or commit to a business or industrial site, we encourage you to visit the City of Argo!
What Would You Like to Access?
Argo has a rich history with the railroads
If you enjoy a home with history, Argo has that to offer in abundance.  Argo has a rich history with the railroads and the Norfolk-Southern Railroad still passes through town on a regular basis.  Train aficionados will find this absolutely fascinating.  While in Argo, you should also visit the Pioneer Massey Cemetery which commemorates the War of 1812.  There's plenty of history where that came from, so if history is your thing, Argo is your home!
Heart of Argo Southbound
Argo's railway history still exist today. Modern locomotives as well as classics can be seen passing thru.
What People Say About Argo, Alabama
Argo, Alabama is a delightful place to visit.  There's a wonderful southern charm in every person you meet.  People here are genuinely kind and helpful which makes it a great place to visit.  I have thoroughly enjoyed meeting people and building relationships in Argo. ~Dona Bonnett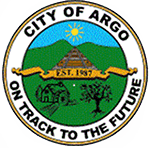 City Council
Mayor Betty Bradley
Rick Hopkins
Dennis Griffin
Tommy Suggs
Danny McCarley
Ann Brown (Mayor Pro-Tem)
City Hall
100 Blackjack Road
Argo, AL 35173
Phone: 205-352-2120
Fax: 205-352-2118