Honor, Service, Integrity
Our mission is to be the model of excellence in Policing by working in partnership with the community and others to:
Fight crime and the fear of crime (including terrorism).
Enforce laws while safeguarding the constitutional rights of all people.
Provide quality service to all our residents and visitors.
Create a work environment in which we recruit, train, and develop an exceptional team of employees.
The Argo Police Department consist of 6 full-time officers to provide professional law enforcement services to the citizens of Argo to help maintain one of the lowest crime rates in our area. We service 17.4 square miles and over 3,500 citizens 24/7. We also have a reserve department of 5 members. If you are interested in joining you may apply thru City Hall. If you have an emergency, please dial 911 for assistance. If you need an officer to meet with you after hours you may contact Central Dispatch at 467-3333.
Chief Alan Busler
Argo Police Chief
ARGO POLICE DEPARTMENT
100 Blackjack Road
Argo, AL 35173
Central Dispatch:  (205)467-3333
For Emergencies: Dial 911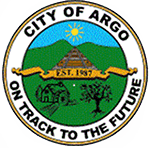 City Council
Mayor Betty Bradley
Rick Hopkins
Dennis Griffin
Tommy Suggs
Danny McCarley
Ann Brown (Mayor Pro-Tem)
City Hall
100 Blackjack Road
Argo, AL 35173
Phone: 205-352-2120
Fax: 205-352-2118