Argo Christmas for Kids 2021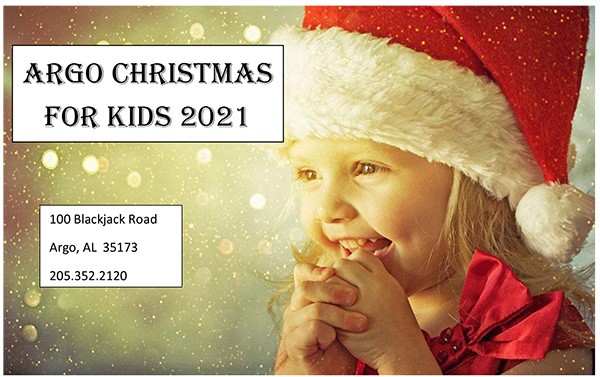 Participation in the Argo Christmas for Kids 2021 program is limited and will be filled on a first-come, first-served basis. Please get your applications in as soon as possible.  You and your children must be a resident of the city of Argo to participate.  Applications are being accepted now through December 3, 2021.  Pick up will be at Argo City Hall on December 11, 2021 after the Christmas parade.
Argo Christmas for Kids 2021
A hand written letter stating your current situation
A copy of each child's birth certificate OR proof of guardianship (NO SSN CARDS)
A copy of your valid photo ID
A copy of your most current electric bill or most current phone bill with your current address
Tax return or check stub (if possible)
A copy of food stamps award letter, Medicaid letter, or any other form of government assistance award letters (if possible)
We allow up to 15 years old to participate, with some exceptions of 16 – 18 (i.e. if they are disabled).  If you do have 16 – 18 year old children in the home with younger children who are qualified for ACFK, please also fill in an application for them so that we can try to arrange a sponsor.  We cannot guarantee sponsors, but we will make every effort to get them sponsored.
Please contact Argo City Hall 205.352.2120 or Michelle Coalson 205.337.7708 for more information.